The Festival Summer 2021
Rheingau Musik Festival from June 26 to September 5 2021
The Rheingau Music Festival is one of the largest music festivals in Europe and every year it stages over 170 concerts throughout the region, from Frankfurt to Wiesbaden and the Middle Rhine Valley. Unique cultural monuments such as Kloster Eberbach, Schloss Johannisberg, Schloss Vollrads and the Kurhaus Wiesbaden as well as secluded wineries are transformed into concert stages for stars of the international music scene, from classical music and jazz to cabaret and world music.
The 34. Rheingau Music Festival will take place from June 26 to September 5, 2021. The festival summer holds 192 top-class and varied concerts at 22 venues, for which 115,000 tickets are available.

Outstanding artistic personalities and one of the best vocal ensembles in the world will shape this year's program: Artist in Residence Khatia Buniatishvili, Focus Artist Bomsori Kim, Focus Jazz Artist Chilly Gonzales and the Tenebrae Choir will accompany the entire 2021 festival season with unique concert projects. In addition, from July 9 to 11, the focus will be on Wolfgang Amadeus Mozart's work and influence, and the 100th birthday of the Argentine tango king Astor Piazzolla will be celebrated with a musical portrait. Other focal points are the "Next Generation" and "Jazz & more" series.
Artist in Residence - Focus
Artist in Residence: Khatia Buniatishvili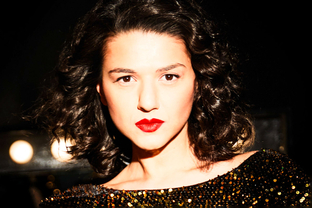 In her early twenties, the Georgian-French pianist Khatia Buniatishvili conquered the classical music world. Her personality is dazzling, her playing extroverted, her mind subtle. She creates sound images, conveys emotions, polarizes, inspires, and always remains true to herself. In this honest way she faces her audience in all renowned concert halls of the world. But she does not see herself and her audience as separate elements: she wants to develop a common idea of music with the audience, to become one. Our artist in residence this year is a profound, reflective, self-confident, committed young woman, a poet of sound who has something to say not only on stage.
As Artist in Residence at this year's Rheingau Music Festival, Khatia Buniatishvili will present her multifaceted pianistic skills in four concerts with a wide variety of instrumentation. Together with the Deutsche Kammerphilharmonie Bremen and Paavo Järvi, she will bring Rachmaninoff's sonorous Second Piano Concerto to the Kurhaus stage in Wiesbaden (June 30, 5 p.m. and 8 p.m.). When Khatia and her sister Gvantsa perform as a duo on the piano, intimate sibling love and deep musical affinity come together. The two sisters are only too happy to embark on musical ventures and programmatic experiments (July 9). Tchaikovsky's famous First Piano Concerto is one of Kathia Buniatishvili's showpieces. With the Gstaad Festival Orchestra under Jaap van Zweden's direction, the pianist has great musicians at her side for her interpretation of the concert (Aug. 19, 5 p.m. and 8 p.m.). She is only too happy to seek out musical challenges, to tread unfamiliar paths, and prefers to enter the labyrinth rather than the clearly marked terrain – also in her last concert: Khatia Buniatishvili will end her residency with a recital at the Kurhaus Wiesbaden (Sept. 3, 5 p.m. and 8 p.m.).
You can find all concerts of Khatia Buniatishvili at Rheingau Musik Festival 2021 here.
Focus: Bomsori Kim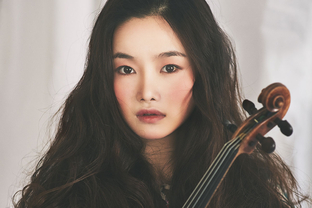 At the beginning of her twenties, Bomsori Kim's violin playing is characterized by expressive communication with the audience and interpretations that give a glimpse into her innermost being. The winner of the 62nd ARD International Music Competition has established herself as part of an upcoming generation of internationally renowned violinists. In the summer of 2019, she made her debut at the Rheingau Music Festival, and in 2020 she was a guest in our high-profile digital concert productions "All about Mozart." This summer, she pays homage to the classical master with performances of all five of Mozart's violin concertos. In a refreshing way, she elicits the finest nuances of sound from the works in her interpretations and denies any virtuosity with ease.

As a focus artist, Bomsori Kim will be on stage with eight concerts at the Rheingau Music Festival 2021, presenting her entire artistic skills together with various musical partners. She will kick things off as part of our focus "Spot on: Mozart," in which she will bring all five of the classical composer's violin concertos to the cloisters of Eberbach Abbey with Camerata Salzburg (July 10, 5 p.m. and 8 p.m. & July 11, 4 p.m. and 7 p.m.). Bomsori Kim shows that she is also comfortable outside of classical music in a piano trio with cellist Maximilian Hornung (July 25), among others. The program here includes piano trios by Mendelssohn Bartholdy and Dvořák, as well as other chamber music. Together with the Tenebrae Choir, this year's focus ensemble, Bomsori Kim delves deep into the Baroque era. On this evening, Bach's Partita No. 2 in D minor for solo violin BWV 1004 merges with selected chorales by the composer, opening up a very special perspective on this monument of violin literature (Aug. 14, 6 p.m. and 9 p.m.). With Tchaikovsky's Violin Concerto in D major op. 35, which she brings to the stage of the Kurhaus Wiesbaden together with the Royal Philharmonic Orchestra and Vasily Petrenko (Sept. 2, 5 p.m. and 8 p.m.), Bomsori Kim concludes her summer full of music in the Rheingau 2021.
You can find all concerts of Bomsori Kim at Rheingau Musik Festival 2021 here.
Focus Jazz: Chilly Gonzales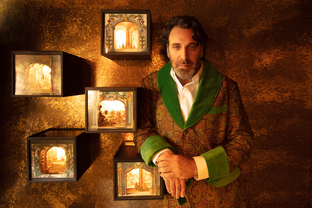 He is a man of superlatives: Chilly Gonzales - Canadian piano artist, Grammy winner and Guinness World Record holder - captivates as a humorous entertainer. Sometimes he is an effervescent singer-songwriter, sometimes an introverted pianist, sometimes he celebrates his own music, sometimes he screws with electro beats. And he does it all in a robe and slippers. Since his successful album "Solo Piano" Gonzales has been playing in sold-out halls. There he performs solo, with quartet and large orchestra or duels with other pianists. His trademark is a mix of styles, a very unique blend of classical, rap, jazz, electronic and pop. In his performances, he demonstrates time and again that music is truly a global language whose ingredients have been refined and adapted to new basic requirements throughout history. The pianist will share his unlimited joy of playing with his audience in the Rheingau and the surrounding area in the summer of 2021.

As a focus jazz artist, Chilly Gonzales will take his audience on four concert evenings into a world that has everything to offer from classical music to jazz to pop and electro. He will be accompanied by musicians and ensembles who are friends and form a wonderful musical alliance in their interplay with the exceptional pianist. In his first concert "Chilly Gonzales presented in PianoVision" created by Nin Rhode (July 4, 5 p.m. & 8 p.m.), the artist will give samples of his solo albums. What is special about this concert is that his audience will have a clear view of the pianist's hands, which will be filmed during his playing and transmitted to a screen. Compositions of very different colors, such as those dedicated to Bach and Daft Punk or to rapper Juicy J, will be heard on this special evening with Chilly Gonzales, the Kaiser Quartett and Joe Flory on drums (July 23, 5pm & 8pm). In Gonzales Masterclass featuring Malakoff Kowalski, the two composers and pianists share insights into their music and their thinking about music (Aug. 12). And last but not least, our Focus Jazz artist presents himself together with the two piano greats Igor Levit and Malakoff Kowalski at the Kurhaus Wiesbaden (Aug. 13, 5pm & 8pm).

This link will list all concerts of Chilly Gonzales for you.
Focus Ensemble: Tenebrae Choir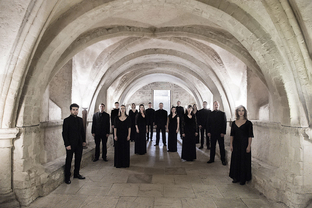 Sounds so clear and floating, as if they came directly from heaven, then again so weighty and forceful, as if the Last Judgment was speaking a word of power: under the direction of Nigel Short, a former member of the King's Singers, the excellent singers of the Tenebrae Choir from London present a vocal culture of perfection, flawless intonation and outstanding vocal technique. In 2021, the Rheingau Musik Festival will dedicate a focus to the multi-award-winning choir, in which the vocalists will present their wide-ranging repertoire.

As a focus ensemble, the Tenebrae Choir, under Nigel Short's direction, will bring three fascinating programs to the concert stages of the Rheingau Musik Festival. The accomplished singers will light up the basilica of Kloster Eberbach with Talbot's richly tonal "Path of Miracles" (Aug. 13, 5 p.m. and 8 p.m.). The concert of the choir with the focus artist Bomsori Kim offers a sound combination with rarity value: Together they dedicate themselves to a Bach program consisting of a dialogue between Partita No. 2 for violin solo and selected chorales (Aug. 14, 6 p.m. and 9 p.m.). The outstanding performers conclude their focus in their Advent concert "A Very English Christmas" with works by a wide variety of English composers (Dec. 10).

This link will list all concerts of the Tenebrae Choir.
Thematic Keynotes
Spot on: Mozart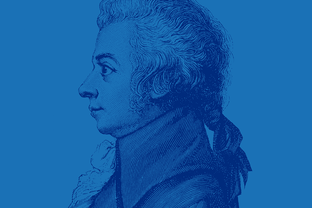 Child prodigy and bon vivant, genius, public favorite and provocateur: hardly any artist's life still moves people's minds as much as that of Wolfgang Amadeus Mozart, who died in Vienna in December 1791 at the age of only 35. In just under 30 years, Mozart completed more than 600 works that are still relevant today and have lost none of their forcefulness. The Rheingau Music Festival celebrates the composer in 2021 with a portrait and takes a closer look at his artistic work during a festival weekend.

French pianist Hélène Grimaud will perform the famous D minor Piano Concerto KV 466 with the Camerata Salzburg at the Kurhaus Wiesbaden. The focus artist Bomsori Kim, also accompanied by the Camerata Salzburg, will devote herself to all five of Mozart's violin concertos, enriched by famous symphonies by the composer. The Schumann Quartet pays homage to the Viennese together with clarinettist Pablo Barragán. Corinna Harfouch and Hideyo Harada use scenic elements, puppetry, recitation, improvisation and, of course, lots of Mozart in the O-Ton to trace what in his works fascinated the 19th century in particular and made his music a place of yearning for the Romantics. Passion is the reason why members of the Vienna and Berlin Philharmonics founded the Philharmonix: They play everything they've ever felt like playing. And now they're taking on Mozart. A virtuoso classical violinist with a penchant for Eastern European music, a jazz violinist with punk rock experience, a masterfully improvising accordionist with Balkan sound in his blood, and a bassist who feels just as much at home in symphony orchestras as in jazz combos or funk bands: the four musicians of the ensemble Uwaga! take an imaginary Mozart journey in the direction of the Balkans.
You can find all concerts on our Mozart focus under this link.
Piazzolla: 100th birthday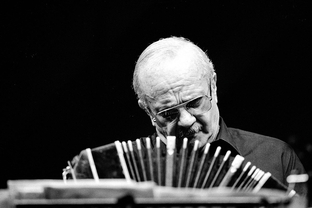 It takes courage to think music in a new way. This courage was also possessed in the 1950s by Astor Piazzolla, the great tango revolutionary, who throughout his life was subjected to hostility from his compatriots because of his reorientation of the traditional tango. But many also recognize what the bandoneonist accomplished in his insatiable creative urge: the transfer of the tango into art music. In March 2021, Astor Piazzolla would have turned 100. The Rheingau Music Festival is shining a spotlight on the Argentine composer and giving its audience the opportunity to engage with this musical mastermind in four concerts with a wide variety of instrumentations and programs.

In four concerts this year, we are taking a closer look at the work of Astor Piazzolla. The Astor Piazzolla Quintet, which has existed in its current lineup since 1998, has been carrying on the legacy of the late tango revolutionary for over twenty years, taking the composer's provocative and novel music out into the world. The renowned percussionist Simone Rubino elicits new facets from the baroque compositions of Johann Sebastian Bach with his vibraphone and, alongside this, interprets works by Astor Piazzolla together with the Barockensemble La Chimera under the direction of the Argentine lutenist Eduardo Egüez – a musical play of colors in a sensitive and at the same time fiery manner. In a summery evening atmosphere in the Eberbach cloisters, we celebrate Piazzolla with a large cast: the Württembergisches Kammerorchester Heilbronn has an intimate relationship with the Argentine composer, and Aydar Gaynullin contributes the typical accordion sound in a highly virtuosic manner. Trumpet and accordion – a not everyday combination. In this concert Lucienne Renaudin Vary and Ksenija Sidorova go in search of traces in the musical life of the Argentinean and portray the composer in an extraordinary way.

Under this link you will find all concerts of the Piazzolla focus.


Next Generation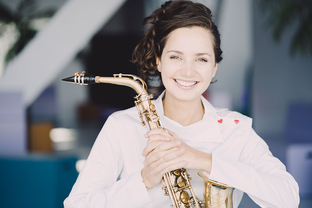 The Rheingau Music Festival brings the greatest international artists to the region, but at the same time sees its task as taking responsibility for the next generation of musicians. With established concert formats such as "Classic Marathon" and "Young Master Pianists of the Russian School", upcoming talents who are still at the beginning of their careers are given a podium and supported in their musical development. Particularly outstanding young artists and ensembles are given the opportunity to present themselves to a broad audience in the "Next Generation" series. In addition, large youth orchestras regularly perform at the Rheingau Music Festival, inspiring audiences with their freshness and passion. We accompany the greatest musical talents on their way to becoming mature artists and regularly invite them to the festival. The stage gets bigger with each concert, the accompaniment more spacious, the performances more distinguished, the repertoire bolder. Every year, one artist of the "Next Generation" is awarded the Rheingau Music Festival's coveted LOTTO sponsorship prize, which is donated by LOTTO Hessen and endowed with 15,000 euros. The promotion of our promising talents is also close to Deutsche Telekom's heart, and so this year it is supporting our "Next Generation" for the first time.

You can find all the concerts in this thematic focus under this link.
Jazz & more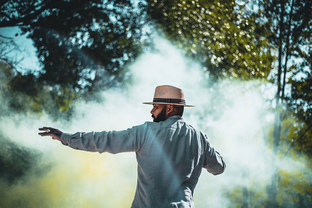 "Jazz & more" – this is our focus with projects that spring from jazz in the most diverse ways, reaching across different styles and varieties and absorbing multi-faceted influences from foreign countries and cultures. But not only jazz, also pop and rock show the universal language of music. It creates a feeling that can be felt by everyone, enables the deepest emotional experiences and can do one thing above all: connect its listeners with each other.

Our unique venues also contribute to the musical enjoyment. The summer full of music can be experienced particularly intensively in the open air, and so our open-air stages are among the most beautiful of the festival. The lake stage at Schloss Vollrads has been part of the festival for many years. This year, new atmospheric backdrops for unique concert experiences are also offered by the monastery courtyard of Kloster Eberbach, the Hummelpark in Hochheim and the BRITA-Arena in Wiesbaden. But also our indoor venues like the Kurhaus Wiesbaden and our new Fürst von Metternich Concert Cube at Johannisberg Castle shine with charm between past times and modernity.

You can find all the concerts in this thematic focus under this link.