There are plenty of options for supporting the Rheingau Music Festival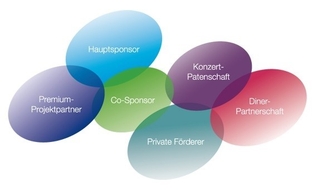 Principal and co-sponsors as premium partners of an internationally prestigious cultural brand
The Rheingau Music Festival forms a single inseparable whole with its principal and cosponsors, who with their multi-year involvement make a major contribution towards financing and planning security. They are present on all levels of the festival's communication, and enjoy spotlighted enhancement of their corporate image, plus exclusive advantages.
Premium Project Partners as sponsors for special flagship projects
Our Premium Project Partners' involvement enables the festival to plan major flagship projects, which of course are crucial elements of any programme. Whether it's monumental choral works, symphony concerts with top-ranking orchestras and renowned soloists, or global stars from the jazz scene – the financing is assured by our Premium Project Partners. They are also represented the whole year round, and specially spotlighted in the festival's publications.
Concert patrons as partners for events of superlative excellence
Concert patrons choose from among the abundant diversity of the festival's calendar their personal concert highlight, and with their support contribute towards making it a success: an involvement that is visible to everyone thanks to prominently placed advertising, and provides a company event of superlative quality.
Dinner partner for a soirée of a rather special kind
Within the framework of attending a concert, you can invite a small circle of carefully selected guests to a gourmet dinner and a delightful evening in an out-of-the-ordinary ambience.
This form of cooperation provides for exceptionally intensive encounters and stimulating conversations with customers and business associates at the festival's most aesthetically attractive venues.
Private sponsorship
Private individuals, too, can get involved with the Rheingau Music Festival in our Supporters' Association, entitling them to attractive benefits.
Our publications as PDF files
Image brochure Rheingau Musik Festival