We thank our supporters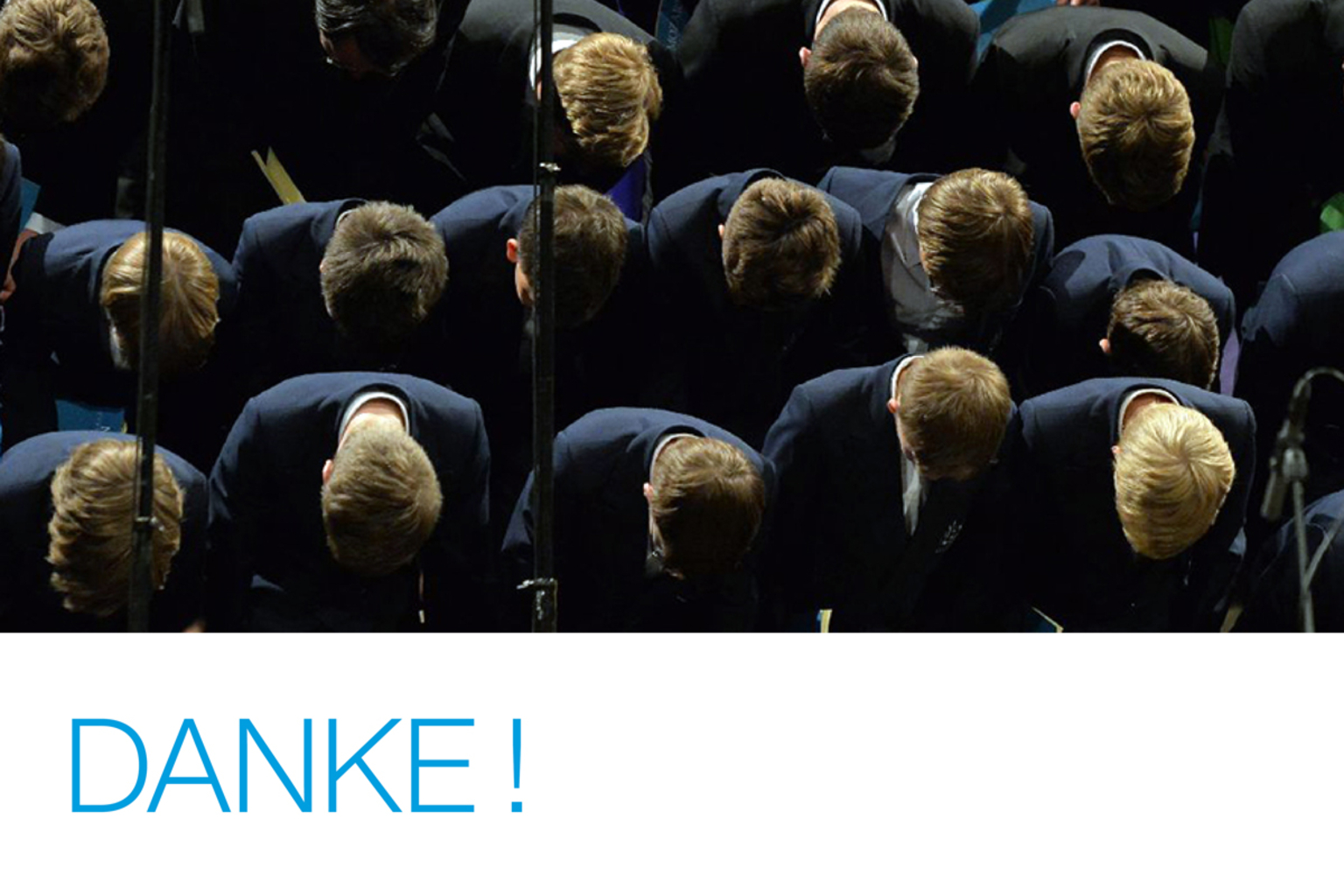 We would like to thank you from the bottom of our hearts for supporting the Rheingau Musik Festival by waiving a refund of the ticket price or transferring the money to the festival account. The entire festival team is touched by this solidarity and by the many sympathetic and encouraging messages that were broadcast on all channels. This support contributes significantly to stabilizing the festival financially and to being able to plan for the coming years.
In addition to the many supporters who are listed by name here on the website, we would also like to thank the countless anonymous donors for their donations.
This list will be continuously updated.
Bernd Abeln, Dreieich
Holger Achnitz, Kronberg
Dr. Joachim Ackva, Idstein
Jörg und Lydia Adam, Kriftel
Dr. h.c. Klaus G. und Brigitte Adam, Wiesbaden
Winfried Adam und Marlis Bernauer, Kriftel
Susi Adler
Günter Ahrens, Wiesbaden
Meike und Erik Ahrens, Wiesbaden
Dr. Karsten Albert, Kronberg
Jörg Albrecht, Kassel
Tony Alt, Montabaur
Karl-Heinz Altenhofen, Wiesbaden
Ursula Altnickel, Trier
Prof. Dr. Anja Amend-Traut, Würzburg
Horst Amendt, Frankfurt
American. German Business Club Frankfurt, Frankfurt
Frank Amrhein, Partenstein
Matthias Andiel, Hofheim
Engelbert Apelt, Trier
Marietta Apitius, Trier
Dr. Billur Aral-Becher, Wiesbaden
Caroline Arnold, ARCTEC GmbH, Frankfurt
Christine Atzinger, Dreieich
Anja Bacher, Frankfurt
Helmut Bachmann, Rimbach
Andrè Bacholdt, Aachen
Dr. Leo und Renate Bader, Trebur
Katrin Bastisch, Wiesbaden
Hannelore Bauer, Wiesbaden
Dr. Artur Bauhofer, Marburg
Hannelore Baumann, Hanau
Dorothea Baumert, Mainz-Kastel
Ulrich Baussmann, Schlangenbad
Claudia Bechtel, Frankfurt
Alexandra Bechter, Wiesbaden
Dieter Becker, Frankfurt
Egon Becker, Bad Homburg
Klauspeter Becker, Obertshausen
Martin Becker, Schwetzingen
Peter Behr, Michelstadt
Ernst-Detlef Bengs, Seligenstadt
Dr. Elke Benning, Mainz
Traudel Berg, Springe
Udo Berg, Karben
Evelyn Berghäuser, Wetzlar
Dieter Bertges und Mechthild Bauer-Bertges, Wiesbaden
Christiane Bettner, Eltville
Dr. Virginia Betz, Bad Ems
Antje und Arne Biber, Wiesbaden
Georg Birod, Bad Camberg
Wolfgang Birtel, Lörzweiler
Fritz und Sabine Bittmann, Meisenheim
Ingeborg Blaas, Bad Honnef
Wolfdieter Blaum, Bad Soden am Taunus
Bettina Bodenschaar, Wiesbaden
Wolfgang Böhm, Höhr-Grenzhausen
Miriam Böhm, Neu-Anspach
Hans-Jürgen Bohn, Friedberg
Irina Bohn, Grävenwiesbach
Sandra Bongard und Roland Feldhinkel, Florstadt
Edwin Borg, Wettenberg
Dr. Sylvia Börgens, Geisenheim
Jürgen und Birgit Bosch, Büttelborn
Ellen und Wolfgang Böttcher, Köln
Maria Brachtendorf, Oestrich-Winkel
Philipp Brand, Eltville
Sybille Brand, Eltville
Holger Brauer, Frankfurt
Dr. Rolf Braun, Bonn
Gabriele Braun-Bialdiga, Mainz
Susanne und Dieter Brazel, Marburg
Prof. Dr. Hermann Breinl, Rüsselsheim
Hanne Breithaupt, Lich
Helmut Brenner, Meerbusch
Dr. Hans-Christian Brodersen, Mainz
Bettina Bruhn, Frankfurt
Hartwin Bungert, Düsseldorf
Axel Büse, Oberursel
Heide Büsgen, Wiesbaden
Hein-Herbert Burstedde, Bergisch-Gladbach
Sonja Callies
Claudia und Uwe Cappel, Dreieich
Isolde Casper, C&N Design-Agentur GmbH, Frankfurt
Gabriele Chatenay, Pulheim
Colette Choquet, Mainz
Maren Christen, Frankfurt
Michael Christl, Frankfurt
Mike und Claudia Christmann, Lierschied
Ursula Craß, Eltville
Prof. Dr. Michael und Ulrike Crone, Frankfurt
Theodor Cronewitz, Worms
Petra Dähn-Holzhauser und Hagen Holzhauser, Bad Soden
Christiane Danz, Rödermark
Dr. Martin David, Hofheim
Jürgen Decker, Bonn
Marina Decker, Hofheim
Michael Deckner, Oestrich-Winkel
Dieter Deeken, Mönchengladbach
Katharina Degenhardt, Frankfurt
Hans P. Dehn, Fulda
Gaby und Jürgen Deklerk, Bonn
Andrea Delbrück, Frankfurt
José Delhaes, Mühlheim am Main
Marion Denny, Eschborn
Prof. Dr. Arnulf Deppermann und Dr. Mareike Martini, Mannheim
Beate DePriest, Wiesbaden
Matthias Derstroff, Eppstein
Sibylle Destrée, Oestrich-Winkel
Ute Dewitz, Budenheim
Patrick W. und Cora Diemer, Hofheim
Dorgrit Diepholz, Papenburg
Maik Dietrich-Gibhardt, Weimar
Sven-Oliver Dietz, Mainz
Petra Dittrich, Weiterstadt
Dr. Sybille Dobrunz-Mielke, Wiesbaden
Jörg-Peter Domschke, Wiesbaden
Peter Donath, Frankfurt
Frank und Marina Döring, Idstein
Marion Downing, Schwalbach
Erika Drescher, Hanau
Helga Dreis, Lorch
Nico Eberhardt, Offenbach
Helma und Arno Eckhardt, Königstein
Dietmar Eger, Raunheim
Rolf Ehmann, Offenbach
Robert Eidam, Bad Wildungen
Elke Eisel, Zweibrücken
Petra und Horst Elmrich
Renate Engenhart, Fürth
Jens-Uwe Engler, Bad Homburg
Sandra Erb, Karben
Lorenz Erbar, Ginsheim-Gustavsburg
Thomas und Monika Erler, Eppstein
Markus Erlewein, Frankfurt
Rainer Ernst, Wiesbaden
Jost-Christof Esser, Wiesbaden
Thomas Esteban, Darmstadt
Wilma Estelmann, Wiesbaden
Michael Euler, Bad Homburg
Julian Evans und Barbara Scholz-Evans, Oberursel
Ursula Fasselt und Wolfgang Doub, Saarbrücken
Ursula Federhen, Geisenheim
Rudolf und Gabriele Feil, Idstein
Ekkehard Freiherr Fellner von Feldegg-Brüning, Swisttal-Buschhoven
Jürgen und Ursula Fessner, Wiesbaden
Roland Fiedler, Hofheim
Edelgard Fielitz, Gaudersheim
Nora Finzel, Frankfurt
Klaus Fleck, Darmstadt
Weingut Fleischmann, Gau-Algesheim
Barbara Flenker, Sprockhoevel
Alfredo Flores, Bad Homburg
Barbara Florschütz, Nauheim
Achim Fokken, Wiesbaden
Michaela Forwerk, Berlin
Helga Franke, Wiesbaden
Prof. Dr. Jörg Franke und Judith Franke-Kremer, Frankfurt
Karl-Heinz Franzmann, Groß-Gerau
Gerda Marie Frederking, Darmstadt
Herbert Freischlad, Dillenburg
Katja Freund, Wiesbaden
Torsten Freymark, Frankfurt
Gerhard Frick, Neuwied
Norbert Frickhofen, Wiesbaden
Claus Friedhoff, Jüchen
Reiner Frisch, Mühltal
Wolfgang Frisch, Idstein
Wolfgang Fritscher, Korb
Lothar Fritz, Kelkheim
Annemarie und Werner Fuchs, Bad Kreuznach
Christian Fuchs, Wiesbaden
Jens Fuchs, Düsseldorf
Olaf Fuchs, Eltville am Rhein
Prof. Dr. Thorsten Fuchs, Koblenz
Esther Fuchs-Jürgens, Geisenheim
Horst Fuhrländer, Eschborn
Lore Funke, Taunusstein
Yvonne Fünkler-Glatz, Eschborn
Dorothea Fürll, Wiesbaden
Andreas Fuths, Wiesbaden
Dr. Anja Gabe, Hofheim
Dörte Gade, Nackenheim
Michael Gassert, Mainz
Hildegard Geberth, Hanau
Susanne Gehring, Ostelsheim
Harald Geimer, Wiesbaden
Heitho und Gudrun Geipert, Biebelsheim
Michael und Maria Gelbach, Hünstetten
Heinz Gemeinder, Weilmünster
Heidi und Wolfgang Germann, Darmstadt
Joachim und Irene Gersdorf, Wiesbaden
Eckhard Geulen, Darmstadt
Paul-Leo Giani, Wiesbaden
Claudia und Thomas Ginap, Wiesbaden
Michael Girg, Hofheim
Sabine Glaßner, Lorch
Jutta Gmeiner, Darmstadt
Werner Gnade, Kaufungen
Jürgen und Hannelore Göbel, Bingen
Dr. Reinhard Göbel, Schmitten
Astrid Göbler, Bad Nauheim
Claus Godau, Kiedrich
Ulla und Edmund Gondecki, Bochum
Gerhard Gotta, Rödermark
Sigurd Gottschalk, Bad Soden am Taunus
Familie Graiche, Kriftel
Carsten Graue, Münster
Rüdiger Greiner, Oberursel
Kornelia Griesche
Hanne Grimonpont, Ober-Olm
Achim Groepper, Frankfurt
Dr. Christiane Grolik, Köln
Julia Grüne, Frankfurt
Marcus Grünert, Mainz
Dr. Andreas Grünes, Mainz
Sybille Grünewald-Germann, Idstein
Dr. Petra Guhr, Frankfurt
Dr. Werner Gundlach, Eltville
Dr. Daniela Günther, Himmighofen
Liane und Frank Gürbig, Wiesbaden
Laura Hafner, Wiesbaden
Manuela Hagenberg, Kriftel
Norman Hähn, Wiesbaden
Holger Hallin, Steinbach
Renate Hannemann, Griesheim
Walter Hansel, Köln
Hans-Joachim Harder, Frankfurt
Christa und Johannes Hartmann, Weiterstadt
Petra Hartmann, Worms
Dr. Martina Hasenjäger, Offenbach
Patricia und Jörg Hashagen
Irmgard Hatesaul, Bonn
Anja Heberle, Wiesbaden
Dr. Harald Heckmann, Kelkheim
Monika Hegemann-Lescher, Recklinghausen
Ralf und Julia Heil, Geisenheim
Dr. Ulf Heil, Kronberg
Dr. Oliver Heiland, Brühl
Gerhard Heim, Linsengericht
Thomas Helfrich, Neu-Anspach
Detlef Helfricht, Oberursel
Stefan Henkes, Frankfurt
Thomas Hennemann, Friedrichsdorf
Fred Heppenheimer, Rodgau
Florian Herbig, Offenbach
Petra Hergenröder. Frankfurt
Monika und Dieter Hergott, Dieburg
Uwe Herklotz und Bärbel Streubel, Wilkau-Haßlau
Jens und Bettina Hermjakob, Bad Soden
Inge Herold, Edingen-Neckarhausen
Klaus und Christine Herweck, Wiesbaden
Andrea Herzmann, Ginsheim
John Herzog und Irene Gross-Herzog, Mainz
Dr. Wolfgang Hess, Schlangenbad
Charlotte Heuser
Thomas Heydemann, Idstein
Franz Hierer, Darmstadt
Christine Hild, Trier
Franz J. und Ingrid C. Hilgers, Wiesbaden
Christiane und Werner Hirschler, Köln
Joachim Hoff, Wiesbaden
Christiane Höffgen, Solingen
Familie Hoffmann, Bad Schwalbach
Manfred Hoffmann, Wiesbaden
Stefan Hoffmann, Friedrichsdorf
Alfred Hofmann und Ingrid Fuchs, Wiesbaden
Winfried Hofmann, Marburg
Peter Hohage, Stadecken-Elsheim
Edmund Holetzke, Nackenheim
Jürgen Hölz, Frankfurt
Sven Hölzel, Idstein
Christel Höpfner, Neu-Bamberg
Regina Hollenbenders, Nettetal
Gertrud Homke, Eppstein
Cornelia Hornemann, Düsseldorf
Robert Horst, Frankfurt
Wolfgang Hoßbach, Niederheimbach
Dr. Georg und Ulrike Hübner, Königstein
Dr. Kerstin Huf, Ingelheim
Annette Huppert, Marburg
Dr. Stephanie Husemann, Gütersloh
Ingo Husemeyer, Frankfurt
Ulrike Ihlefeld, Oberursel
Hildegard Ilgner, Sankt Augustin
Elfried und Herwart Imhoff, Seeheim-Jugenheim
Susann Illge-Gluth und Ralph Illge
Dörte Irmscher, Mühlheim
Prof. Dr. Klaus Jäckel, Bad Soden
Franz Jäger, Rödermark
Harald und Hedda Jäger, Wiesbaden
Katharina Jäschke, Wiesbaden
Dr. Ingolf Jahn, Marburg
Reinhold und Monika Jakob, Mörfelden-Walldorf
Christa Jaksch, Duisburg
Prof. Barbara Jakubeit, Wiesbaden
Dr. Birgit Janning, Wiesbaden
Bernd Janocha, Wiesbaden
Uta Janssen-Untermann, Hochheim
Gertraud Jerabeck-Sandow, Bad Soden
Silke Jockel, Lich
Karin Jopp, Wiesbaden
Dr. Jörg und Lydia Jordan, Wiesbaden
Dr. Reimund Jotter, Mainz
Elisabeth Jung, Königstein
Dr. Franz Josef Jung, Eltville
Günter Jung, Bodenheim
Reiner Jung und Heike Colbus, Oberursel
Wolfgang Jung, Hochheim
Alexandra Jungeblut, Steinbach
M & AG Jürgen Lessnich, Frankfurt
Benno Kahl, Wiesbaden
Sabine Kalenberg, Schwabenheim
Johannes Kalluza, Mainz
Frank Kamp, Oestrich-Winkel
Ralf Karkoska, Groß-Gerau
Liudmila Karmanova, Filsen
Christoph Karpinski, Wiesbaden
Hans Kasprzyk, Frankfurt
Dr. Friedrich Katz, Engelsbrand
Michael Kaufmann, Wiesbaden
Alice Kawik und Siegfried Becker, Mainz-Kostheim
Gabriele Kay-Steinhoff, Mörfelden-Walldorf
Gabriele Keck-Hofmann, Frankfurt
Christiane Keller-Hornung, Frankfurt
Dr. Astrid Kessler, Nümbrecht
Franz Kettmann, Wallenhorst
Manfred Keuser, Grünwald
Klaus Kiefer, Landstuhl
Dr. Heinz Kilbinger, Hochheim
Drs. Karl und Kerstin Kilk, Geisenheim
Annette Killat, Neu-Anspach
Dipl.-Ing. Inna Kirchner, Schlüchtern
Prof. Dr. Dietmar Klausen, Bischofsheim
Margarete Klein, Wadersloh
Dr. Peggy Klein, Frankfurt
Kathrin Klinker, Mainz
Jan Kloeppel, Usingen
Benedikt Kloppenborg, Rüdesheim
Silke Knapp und Gerd Johannsen, Frankfurt
Dr. Klaus Knaup, Lüdinghausen
Sandra Knippenberg, Frankfurt
Dr. Werner und Gudrun Köbel, Schlangenbad
Prof. Dr. Richard und Petra Köhler, Köln
Karsten und Renate von Köller, Frankfurt
Bianca Könecke, Frankfurt
Irmgard Königsfeld, Hofheim
Jürgen Körber, Traisen
Manja Komàromi, Laubenheim
Günter Kopf, Lich
Marianne Korreng, Bad Orb
Gabriele Kotzke, Wiesbaden
Dr. Werner Krag, Wiesbaden
Jörg Kramb, Hünfelden
Dr. Peter-Jürgen Kramer, Darmstadt
Claudia Krämer, Kaiserslautern
Katja Krämer, Kaiserslautern
Fabian Kratzberg, Wiesbaden
Bernd Krause, Aull
Ulrike Kraus-Könnecke, Hattersheim
Andrea Krauss, Frankfurt
Sabine Krell, Nieder-Olm
Karen Kremer, Dietzenbach
Andrea und Hermann Krengel, Roßdorf
Stefan und Renate Kress, Krefeld
Dr. Thorsten Kriese, Wiesbaden
Michael Kringe, Frankfurt
Richard und Petra Kristen, Wiesbaden
Maria Kroth
Christel und Dr. Günter Kruchen, Taunusstein
Stefan Krüger, Wiesbaden
Jutta Krug, Ingelheim am Rhein
Sabine und Ulf Kruse, Hünfelden
Sabine Kühne-Manner, Frankfurt
Edvera Kukielka-Lüning, Bad Homburg
Dr. Bernd Kummer, Wiesbaden
Frank Kunkler, Niedernhausen
Rolf Küpfer, Sindelfingen
Dr. Ekkehard Kurth, Wiesbaden
Georg und Margarete Kurth, Offenbach
Matthias Kurth, Dreieich
Matthias Küster, Mücke
Thomas und Elke Küster, Kelkheim
Gerlinde Labisch, Siegburg
Meike Landt, Bärstadt
Claudia Landwehr, Wiesbaden
Dietmar und Ina Lang, Gießen
Manfred Lang, Groß-Gerau
Uwe Lang, Taunusstein
Klaus Langheinrich, Frankfurt
Monika Langner, Wiesbaden
Natascha Langner, Wiesbaden
Verena Lau, Wiesbaden
Christa Laube, Ingelheim
Roland Laube, Oestrich-Winkel
Walter Lautenbach, Neu-Isenburg
Dr. Nora Lauterbach, Weiler
Ria Lawory und Giovanni Petruzzelli, Wiesbaden
Dipl. Ing. Hermann Lebherz und Annelie Stumpp, Wiesbaden
Ewald und Marian Lederer, Bad Homburg
Gerhard Lehr, Gau-Algesheim
Dr. Manfred Leistener, Pohlheim
Harald Lemke, Hamburg
Renate Lemp, Oestrich-Winkel
Ralf und Doris Lemster, Frankfurt
Ulf Lengemann, Mainz
Andrea Lentz, Bad Schwalbach
Samuel Lenz, Marburg
Jürgen Lessnich, M&L AG, Frankfurt
Hans Rudolf Lichtenberg, Königswinter
Anke und Till Liebau, Frankfurt
Cathy Liebig, Hofheim
Angelika Liedtke, Oestrich-Winkel
Andreas Lieser, Wiesbaden
Dr. Cornelia Lietz, Seeheim-Jugenheim
Roland Lill, Marburg
Karin Linkert, Wiesbaden
Elke und Bernd Lipinsky, Wehrheim
Beatrix Lippke, Klein-Winternheim
Jutta Lißmann, Offenbach
Annette Litz, Wiesbaden
Elisabeth Löbig, Offenbach
Kathrin Lochmüller, Frankfurt
Gerhard Lodowicks, Frankfurt
Sabine Löhr, Ginsheim
Prof. Dr. Peter Lorbacher, Wiesbaden
Benjamin Lorenz, Kelkheim
Dieter Lorenz, Bad Nauheim
Philipp Lübcke, Dreieich
Dr. Joachim Lubig, Frankfurt
Dagmar Maaß, Bonn
Prof. Dr. Dietrich Mack, Mainz
Kerstin und Michael Mager, Wiesbaden
Christian Maikowski, Frankfurt
Michael Malkemus, Frankfurt
Dr. med. Cornelia und Gerd-Peter Marck, Linden
Volker Markert, Bad Camberg
Hans-Christian Marschler, Wiesbaden
Claudia Martin-Konle, Antrifttal
Stephan Marx, Wiesbaden
Ines Matzat, Riedstadt
Sinje Matzner, Baden-Baden
Sabine Maucher, Frankfurt
Hanne May, Berlin
Mareike Mayer, Heidelberg
Hans-Jürgen Meier, Rodenbach
Dorothea Meier-Linsert, Frankfurt
Dr. Jörg Meil, Weiler
Dr. Ulrike Mendelssohn, Mainz
Barbara Menger, Frankfurt
Petra Merzenich, Kronberg
Marc-Christopher Mess, Wiesbaden
Parvaneh del Mestre, Berlin
Dr. Jürgen Metzen, Mühltal
Mona Metzler, Heidesheim
Manuela Meusel, Rheinböllen
Helga Meyer, Limburg
Dr. Jens und Bettina Michel, Warstein
Stefan Michel, Nastätten
Dr. Rolf und Renate Middelhoff, Solingen
Dr. Joachim Miehe, Braunschweig
Dr. Patrizia Mikulcik, Bad Homburg
Otto-Ernst Moeller, Hofheim
Dr. Christiane Molz, Flörsheim
Thomas Moog, Frankfurt
Mechthild Moormann, Haselünne
Dr. Peter Otto Moritz, Stahnsdorf
Claus Müller, Oestrich-Winkel
Irene Müller, Walluf
Klaus und Hermengilde Müller, Düsseldorf
Dr. Klaus Paul Müller, Wiesbaden
Markus Müller, Mainz
Dr. Silke Müller, Frankfurt
Dr. Christoph Münz, Greifenstein
Rolf Murswiek, Worms
Maria Murua Diaz, Eltville
Nassauischer Sparkasse, Wiesbaden
Reinhard Neil, Leinfelden-Echterdingen
Thomas Neubauer, Neu-Isenburg
Dr. Marie Netopil-Laese, Frankfurt
Reinhard und Ines Nickchen, Glashütten
Klaus Niewöhner-Pape, Nidderau
Noriko Nishizawa, Iwamizawa/Japan
Sandra Noack, Münster-Sarmsheim
Anke Novotny, Pfungstadt
Konstantin Nowak, Darmstadt
Friedrich Oberdörfer, Kronberg
Dr. Annette Oboth, Frankfurt
Vera Odey, Hattersheim
Dr. Karl und Renate Ohl, Kronberg
Heinz-Dieter Olbrich, Vellmar
Dr. Birger Ortwein, Eltville
Dagmar Ott, Rüsselsheim
Ulrich Ott, St. Georgen
Dr. Anne Overlack, Moos-Bankholzen
Dr. Volker Papenhausen, Eppstein
Inge Päßler, Wiesbaden
Hans Passmann, Gelnhausen
Christel Paulus, Aschaffenburg
Familie Walter Paulus und Familie Michael Nieder, Bexbach
Claus Pegatzky, Frankfurt
Thomas Pelz, Lorsch
Gabriele Pelzer, Hochheim
Ute und Stephan Perthes, Darmstadt
Thomas Peter, Kassel
Christiane Petersen-Nowak, Bad Honnef
Ludwig und Ilse Petry, Meerbusch
Mario Petry, Bad Soden
Jutta Pfister, Frankfurt
Berhard Pflanzer, Ronneburg
Kerstin und Hauke Pflüger, Nieder-Olm
Dr. Klaus Piette, Bad Honnef
Ingrid Marga Pilz, Mainz
Charlotte von der Planitz, Dreieich
Ellen Plate, Hofheim
Udo Ploder, Wetzlar
Joerg Plösser, Mühltal
Jochen Plötz, Frankfurt
Stefan Poeck, Hünfelden
Peter Pohlen, Eschborn
Elke Pokern, Wiesbaden
Dr. Viktoria Pollmann, Hofheim
Elisabeth Pomp, Bad Schwalbach
Christian und Anne Marie Popp, Kronberg
Dr. Lutz Porombka und Nora Lauterbach, Weiler
Olga Pützsch, Wiesbaden
Dr. Hans-Ulrich Preisendörfer, Bickenbach
Hanne Preuß-Steinborn, Heidesheim
Anne-Maria Pucko, Idstein
Dr. Verena von Puttkamer, Hannover
Gerhard Rabenecker, Eltville
Jens und Bettina Rabitz, Hattersheim
Prof. Dr. Gunter Rädel, Ortenberg
Angelika Rahm, Burscheid
Hubert Rahn, Eltville
Dr. Thomas Rakow, Schriesheim
Ulrich Räth, Wiesbaden
Sigrid Ratmann, Hünstetten
Dr. Helga Rau, Frankfurt
Jochen Raue, Hofheim
Stefan Rauterkus, Kelkheim
Carl-Matthias von der Recke, Frankfurt
Christina Redeker, Hünstetten
Mirjam Reifschneider, Offenbach
Iris und Bernd Reither, Usingen
Dr. Willibald Reixner, Ingelheim am Rhein
Ilona Renfranz, Mainz
Annette Rheinberger, Hochheim
Christine Richter, Nackenheim
Kerstin Richter, Oldenburg
Heike und Johannes Ries, Eltville-Erbach
Dieter Rieser, Usingen
Dr. Jutta Ringling, Ottweiler
Christian Rittner, Nieder-Olm
Florian Roeckl, Oberursel
Winfried W. und Marita Rogge, Wiesbaden
Harald Rohm, Linden
Gerd Ulrich Rohrbach, Frankfurt am Main
Sylvia Röhrnbacher
Dres. Stefanie und Ralf Romba, Wiesbaden
Gabriele Roncarati, Eltville
Elke und Hans Rosenkranz, Eltville am Rhein
Wittich und Lydia Rosenow, Nauheim
Sonja Roth, Idar-Oberstein
Frieder Rothenberger, Niedernhausen
Manuela Rottschäfer, Hohenstein
Annette Rückert
Horst Rüger, Darmstadt
Heinz-Georg Ruffert, Limburg
Regina Rumohr, Frankfurt
Rainer Runge, Köln
Susanne und Reimund Ruß, Rödermark
Dr. Sigrid Saßmannshausen, Wiesbaden
Dr. Wolfgang Sättler, Oberursel
Wilfried Schaab, Taunusstein
Nadja Schäfer-Leppin, Frankfurt
Arthur Schall, Frankfurt
Gottfried Schaub, Kelkheim
Wilfried Scheele, Glashütten
Elisabeth Schenk, Gustavsburg
Aggi Scherer, Bad Homburg
Alfred Scheurer, Bad Soden
Gabriele Schickel, Niedernhausen
Christine Schildberg, Wiesbaden
Thomas Schilge, E+P Engineering + Projektmanagement GmbH, Rüsselsheim
Theo Schiller, Marburg
Michael Schimanski, Lauterbach
Klaus Schindler, Kiedrich
Helmut Schinzel, Mainz
Klaus Schlee, Wiesbaden
Kerstin und Rainer Schmelz
Peter Schmidt, Mainz
Karin Schmidt, Diepenau
Karin Schmidt-Driedger, Diepenau
Michael Schmidt-Driedger, Mendig
Baldur Schmitt, Mörfelden-Walldorf
Brigitte Schmitt, Bockenheim
Ruth Schmitz, Taunusstein
René Schnabel, Westerburg
Anita Schneider, Wiesbaden
Prof. Dr. Arne Schneider, Wiesbaden
Prof. Dr. Frank Schneider, Wiesbaden
Karin Scholl, Dreieich
Angelika Scholz, Langenselbold
Jules Schröder, Büdingen
Armin und Gudrun Schröter, Frankfurt
Martina Schubert, Frankfurt
Achim Schuhen, Wiesbaden
Sylvia Schuhl-Provasi, Bad Vilbel
Thomas Schüller, Königstein
Walter Schulte-Herbrüggen, Frankfurt
Dr. Hans-Detlef Schulz, Darmstadt
Monika Schüßler, Regensburg
Bodo Schuster, Wiesbaden
Dr. Alexander und Anne Schütz, Seligenstadt
Maren Schwaegler, Wiesbaden
Rolf Schwamb, Darmstadt
Berthold und Hildegard Schwarz, Wiesbaden
Ursula Schwarz, Eltville
Wolfgang Schwehm, Alzey
Waltraud Schwendler, Kelkheim
David und Katrin Schwerbrock, Wiesbaden
Heike Schwerdtfeger, Frankfurt
Stefan Sebler, Frankfurt
Frank Seeliger, Mainz-Kastel
Hildegard Seidel, Frankfurt
Claudia und Eberhard Seidensticker, Wiesbaden
Franz Selbach, Köln
Barbara Selgert, Mainz
Frank Sellien, Wiesbaden
Dr. Rainer Seltmann, Wiesbaden
Rainer Sibold, Hattersheim
Dr. Hans Jochen Siegrist, Taunusstein
Nikolaus Sillem, Frankfurt
Angela Simon, Wiesbaden
Daniel Simon, Offenbach
Holger Sinemus, Geisenheim
Uta Skowranek, Frankfurt
Wolfgang Solbach, Wiesbaden
Dres. Casper und Birgitta Söling, Geisenheim-Johannisberg
Heinz Soll, Karben
Sandra Sonntag, Wiesbaden
Gertrud Spahn, Frankfurt
Tom Spalek, Idstein
Ralf Specht, Frankfurt
Eva Spindler
Claus Sporn, Frankfurt
Rolf Srehlau, Frankfurt
Marc-Udo Starke, Hellenthal
Christiane Stecker, Taunusstein
Ruth und Nobert Stenzel, Kelkheim
Heinz und Ursula Stephan, Frankfurt
Klaus-Dieter Stephan, Hofheim
Birgit von Stern, Hochheim
Manfred Stern, Wiesbaden
Christian Stoess, Frankfurt
Dietrich Strasser, Neu-Isenburg
Ralf und Dagmar Strehlau, Frankfurt
Sigrid Strübert, Hofheim
Hans-Jürgen Sybertz, Bad Kreuznach
Kerstin Tarpay, Frankfurt
Joachim Ternig, Saarbrücken
Christina Tesch, Wiesbaden
Edda Theis, Hünstetten
Alexander Theis, Velostrom, OnlineMagazin für Pedelec und EBike
Horst Thiele, Wiesbaden
Christoph Thörmer, Gießen
Ulrich Thoma, Limburg
Ursula Thul, Winnweiler
Julia Timmer, Wiesbaden
Renate Tippmann, Groß-Gerau
Erika Titze-Karolus, Mainz
Behzad Tizabi, Ober-Ramstadt
Werner und Christa Toporski, Bad Homburg
Martin Trageser, Alzenau
Klaus Trauppell, Dreieich
Trude Treede, Mainz
Jörg und Brigitte Treske, Hofheim
Dr. Karl-Friedrich Trespe, Wiesbaden
Hans Jörg Tröscher, Wiesbaden
Vera-Luise Freifrau Truchseß von Wetzhausen, Aschaffenburg
Nicole Türpitz, Frankfurt
Prof. Dr. Rainer Uebis, Alzenau
Wolfgang Uhl, Dresden
Katja Uhrig, Königstein
Ulrike Umbach-Bodde, Kronberg
Walter Untermann, Hochheim
Wolfgang Urban, Marburg
Jutta Urbanek, Idstein
Dr. Consuela Utsch, Idstein
Martina Viebrantz, Aschaffenburg
Juliane Vogel, Darmstadt
Patricia Völke, Wiesbaden
Dr. Berndt Volkmann, Bochum
Dr. Wolfgang Vorbrüggen, Würselen
Monika Voss, Kriftel
Irina Vossen, Wiesbaden
Klaus Wächter, Bad Soden
Josef Wagener, Obere-Ramstadt
Angelika Wagner, Frankfurt
Claus Wagner, Taunusstein
Dr. Jürgen Wagner, Mainz
Luise Wagner, Offenbach
Peter Wagner, Dietzhölztal
Stefan Wagner, Bad Brückenau
Marita Wagner und Günther Rudloff, Neustadt
Marion Wagner-Schink, Trebur
Martin Wahler, Darmstadt
Erich Wahoff, Lingen
Karl und Renate Walter, Niedernhausen
Prof. Dr. med. Ulrich Walter, Veitshöchheim
Heinrich Walther, Bad Soden
Dr. Bernhard Walther, arago Consulting GmbH, Frankfurt
Hans Wilhem von Wangenheim, Bonn
Jürgen Wawrzyniak, Norheim
Antje Weber, Haselünne
Bruno Weber, Königswinter
Franz Weber, Hilden
Dr. Wolfgang Weber, Sulzbach
Dr. Renate Weber und Mario W. Seib, Lampertheim
Manfred Weers, Offenbach
Roderich Wegener-Wenzel, Berlin
Olaf Wehrheim, Bad Homburg
Matthias Weider, Friedrichsdorf
Christine Weidmann, Wiesbaden
Klaus Weil, Lollar
Bernhard und Gabriele Weiland, Wiesbaden
Franz Weis, Wiesbaden
Joachim Weis, Hofheim
Brigitte und Heinz Weisgerber-Nolte, Wiesbaden
Peter Weißinger, Rüsselsheim
Ulrike Weiwad-Klenk, Nassau
Jutta Welker, Limburg
Frederic Welsch, Eppertshausen
Ulrike Wenig, Öhningen
Klaus Werk, Heidenrod
Jürgen Werse, Groß-Gerau
Angela Wettengel-Caliscan, Wiesbaden
Peter Wiatrowski und Erika Toso, Walluf
Elisabeth Wiedemann, Ingelheim
Rainer Wieland, Darmstadt
Erika Wiese, Wachtberg
Olaf Wiesel, Altrip
Herbert Wildhardt, Wiesbaden
Karl-Henner Wilhelm, Wiesbaden
Martina Winkelmann, Wiesbaden
Maria Winter, Frankfurt
Ursula Winter, Kelkheim
Dietmar Wiskandt, Budenheim
Bettina Wittmann, Dreieich
Günter und E. Wittmann Westhofen
Paul Witzke, Kelkheim
Barbara Wörfel, Steinbach
Anneliese Woh, Taunusstein
Ulrike Wolf, Seeheim-Jugenheim
Dr. Wolfgang, Hofheim
Margit von Wolf-Zdekauer, Hofheim-Wallau
Elisabet Woydich, Idstein
Jürgen Würth-Werner, Möckmühl
Dr. Triuwigis Wymer, Bochum
Wolfgang Zahn, Bad Kreuznach
Borislav Zak, Bad Nauheim
Wolfgang E. Zehendner, Bodenheim
Rudolf Zeidler, Rodenbach
Herbert Zerbe, Wiesbaden
Liane Zilz, Groß-Umstadt
Roswitha Zimmermann, Gießen
Peter Zitzmann, Hanau